Scrap Metal Insurance in Boca Raton and Delray Beach, FL
Risk Solutions for the Scrap Metal Industry
The Griffith Agency provides insurance to scrap metal industry businesses in Boca Raton, Delray Beach, West Palm Beach, Fort Lauderdale, Miami, Highland Beach, and surrounding areas.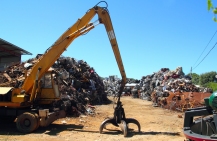 Scrap metal businesses are exposed to industry-specific risks. At The Griffith Agency, we understand those risks and we understand what it takes to keep your business protected. We cover everything, from local scrap yards to large-scale scrap metal and recycling businesses.
Our services include, but are not limited to:
Property insurance
General liability
Umbrella coverage
Specialized coverage for equipment and machinery
Commercial auto insurance
Contact a representative at The Griffith Agency today to set up a consultation.
Our Location
The Griffith Agency
479 NE 20th Street
Boca Raton, FL 33431
Main office:
561-392-2444
Toll free:
800-940-4743
Fax:
561-392-3668
Testimonials
"Tom is a great guy and follows in some mighty big footsteps--left by his dear, dear Father!!"
"Spent 20 years of my life working side by side with the best Toms ever! love you guys....and miss you!!"
"I have know Tommy for most of my life and he is a great guy."
"The Griffith Agency Has handled my insurance for over 20 years, and I highly recommend them."
"I've done business with 3 generations of the Griffith family & still do. It's important to be insured by a good company but, more important to have a good agent."
"The Griffith Agency has been doing all of my insurance for 20 years now. Very consistent and reliable, not to mention affordable!"